Diamond Planter
Yellow Flowers B.G.70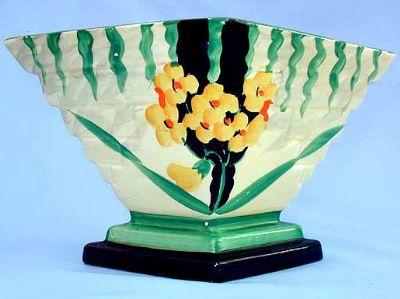 Marks: Gold MYOTT crown (Type II), HAND PAINTED, MADE IN ENGLAND (in russet colour).
Dimensions: 26.7cm (10.5 inches) wide x 18.3cm (7.25 inches) deep x 14.2cm (just over 5.5 inches) tall.
Description: Front: Yellow flowers with orange centres on black background occupying central front finger with stylised leaves and blue/grey shading. Back: Three globes (perhaps representing a lampost) in yellow on black 'post'. Stylised green and brown wavey stems. Black base with green mount.
Rarity: Extremely rare
Variations: If you own an example of this piece that displays a significant variation please supply details and pictures.
Notes: One of the few patterns with differing front and rear designs. Image thanks to eBay's orville4.