Torpedo Vase
Blue & Pink Feathers 8979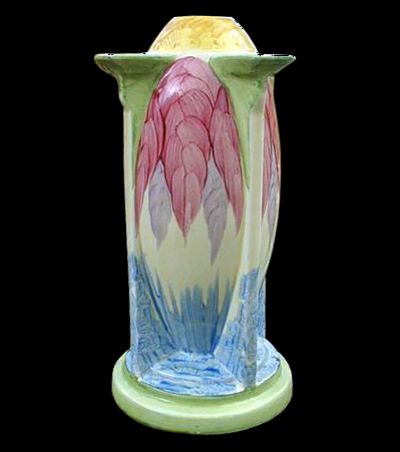 Gold Myott crown (Type I), MADE IN ENGLAND in russet.
Colours: Pink, Mauve, Green, Yellow, Blue.
Dimensions: 22.9cm (9 inches) tall
Description Hanging pink feather effect fronting similar design in mauve to main cylindrical sections. Blue lower feathering circling piece with green base and green finials to 'fins'. Yellow 'nose cone'.
Rarity Extremely rare and highly sort after. Less than 10 pieces seen by the Club so far.
Variations: If you own an example of this piece that displays a significant variation please supply details and pictures.
Notes Picture courtesy of Welcome Aboard. See Links page.